TREATMENT COSTS
Physiotherapy:
Initial Consultation up to 60 minutes £48.00
Follow up treatment up to 40 minutes £33.00
Sports Massage:
£46.50 for 60 minutes
£26.00 for 30 minutes
First appointments are for one hour so there's time for a full consultation covering your health and background to any injury you may have. Payment is by cash or paypal.
Kinesio Rocktape: costs vary depending on treatment time and tape used – call us to discuss your requirements.
Acupuncture / Dry Needling: incorporated into other treatments.
Lymphatic Drainage: £46.50 for 60 minutes (60 mins minimum)
Pregnancy Massage: £46.50 for 60 minutes (60 mins minimum)
Hot Stone Massage: £50 for 60 minutes
The natural basalt stones require time to heat up gradually therefore it isn't feasible to provide half hour treatments.
Personal Training: costs vary – see this pages for full details of our packages.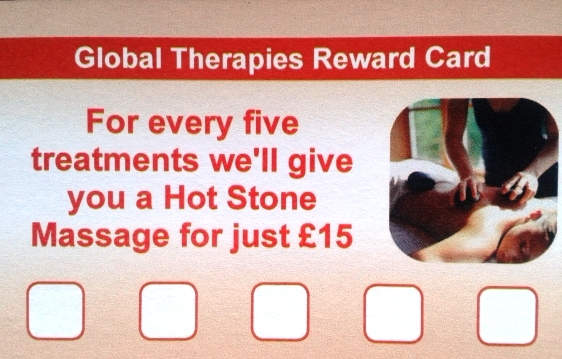 Loyalty Card: Ask for your loyalty card at your next appointment. For every five full price treatments you will receive a Hot Stone Massage for just £15.00.
Home visits: We appreciate it isn't always easy to get to one of our clinics. We are more than happy to travel to you: please contact us for prices as costs are dependent on your location/travel time. Home visit treatments are usually for one hour minimum due to set up time and to ensure you receive a comprehensive treatment without feeling rushed.
Recommend a Friend: We like to reward our clients and appreciate that a personal recommendation is a superb endorsement. We will reward your loyalty and give you a £5 discount off your next treatment when a friend you recommend to us has a treatment.
Gift Vouchers Available: Why not treat your loved one or a friend to a treatment for their birthday, or as a reward for completing a personal challenge.
Cancellations: We understand that it is sometimes necessary to cancel an appointment because of an emergency. If you can't make your treatment please let us know at least 48 hours in advance. If you don't, and can't re-book within the same week, we'll have to charge you for the full treatment. We really don't like doing this, honestly we don't, but if everyone cancelled at short notice we wouldn't be able to eat or pay the bills.
Terms & Conditions apply. Please ask for details. Only one discount applicable per treatment or course of treatments. Block Bookings and Gift Vouchers are valid for 3 months from date of issue unless notified otherwise.